Dal Panchratni Recipe as the name suggest is a combination of 5 dals. Rich in nutrients and low carbohydrates.
Very healthy low calorie dal to be eaten with Roti and Rice.
Servings:4
One preparation will give 1 servings for 4 people.
Calories:162
One serving gives you 162 calories.
Ingredients of Dal Panchratni Recipe
2 tbsp toor dal (arhar)
2 tbsp whole masoor dal (whole red lentil)
2 tbsp whole urad dal (whole black lentil)
2 tbsp whole moong dal (whole green gram)
2 tbsp chana dal (split bengal gram)
1/4 cup curd, beaten
2 tsp oil
1 cardamom (elaichi)
1 stick cinnamon stick (dalchini)
1/2 tsp cumin seeds (jeera)
1/4 cup chopped onions
2 tbsp chopped tomatoes
1/2 tsp coriander powder (dhaniya powder)
1/2 tsp red chilli powder
1/4 tsp turmeric powder (haldi)
1/4 tsp cumin seeds powder (jeera powder)
1/2 tsp fennel seeds (saunf) powder
2 tbsp freshly chopped coriander leaves.
salt to taste
How to prepare Dal Panchratni
1. Clean and wash all dals thoroughly in water and soak them in warm water for atleast 1 hour. Drain the water and keep dals aside.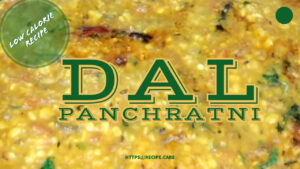 2. Add 4 cups of water and dals in a pressure cooker and cook for about 3 whistles on medium flame. Let the dals be cooked. Open the lid as the steam escapes.
3. Heat some oil in a pan and add cumin seeds. As the seeds begin to crackle, add cinnamon stick, cardamom and onions. Saute on medium flame till onions turn light brown.
4. Add tomatoes, fennel seeds, coriander powder, cumin seeds powder and red chilli powder. Cook for 4 to 5 minutes and keep stirring continuously.
5. Add curd to the pan and mix it will. Cook for 2 to 3 minutes more.
6. Add the cooked dals and salt in the pan and mix the well. Bring the mix to a boil.
7. Garnish with coriander leaves and serve hot.