Sultani Moong dal is a very healthy as it is low in calories, fat and cholesterol. Suitable for weight loss diet and also for diabetic people.
Servings: 6
One preparation of Sultani Moong Dal will make 1 serving for 6 people.
Calories: 96
One serving of Sultani Moong Dal will give 96 calories
Ingredients of Sultani Moong Dal Recipe
1/2 cup moong dal (split green gram)
1/4 cup toor dal (arhar)
1/2 cup onion chopped
1/2 cup tomatoes, chopped
1 tsp garlic cloves, chopped
1/4 tsp turmeric powder
1 tsp green chilli chopped
1 tsp cumin seeds (jeera)
2 tbsp coriander leaves, finely chopped
salt to taste
How to prepare Sultani Moong Dal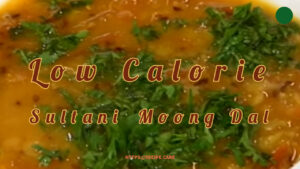 Wash both the dals with water and keep them soaked for 2 to 3 hours. Drain the water and keep them aside.
Add 2 cups of water, soaked dals, tomatoes, green chilli, turmeric powder and salt in a pressure cooker and cook until 3 whistles. When cooked, release the steam.
Dry roast cumin seeds on a pan for about 30 seconds on medium flame. Now lower the flame and add onion to the pan and heat till onion turn light brown.
Add the cooked dals 1/2 cup of water and mix well. Cook on low flame for 5 minutes.
Garnish with coriander leaves and serve hot.