We often rush to a medical store to get a quick relief solution from constipation, but here are the best home remedies for constipation
Constipation is a common problem that many of us face every day but we avoid talking about it. 
We can talk about problems like body ache or sore throat but we feel ashamed to talk if we suffer from constipation. Rightly, who would like to announce that they haven't pooped for a few days!
One wants privacy and secrecy to get relief from constipation. So one needs to know some good home remedies for constipation to ensure that you get the solution without telling anyone.
Constipation problems if it continues for a long time not only affects physically but also mentally and makes the person weak. Below are some of the easy and effective home remedies to relieve constipation.
IMPORTANT LINK: Are you pregnant and feeling constipated? Read all the safe home remedies here
Coffee can cure constipation
Easiest home remedy for constipation- anytime anywhere. 
The first cup of your morning coffee with the sweet fragrance of coffee beans not only freshens your mood but also helps to stimulate your digestive process.
Caffeine, which is found in coffee is good for the stomach and digestion. Make sure that you do not consume more than 1 or 2 cups in the day as more this can cause adverse effects and harmful constipation too.
Coffee works as a diuretic drug as it makes increased passing of urine. But if taken in more quantity, coffee can also dehydrate the body by flushing out more water.
As water is required by our body to make the stools softer and easy to pass out, dehydration can thus cause severe constipation.
Fresh Lemon juice
Refreshing home remedy for constipation
You might have heard that lemon is a common natural remedy to reduce belly fat. As much as our nose like the fragrance of fresh lemon, our stomach likes its fresh juice. Fresh lemon juice is very good for our digestion process and is considered as one of the best home remedies for constipation
It stimulates the digestive process and also helps our body to easily flush out the toxins that get collected inside the body.
Lemon juice can be diluted with water to lower the concentration and it greatly helps the stomach and overall body to function properly.
Use fresh lemon juice as a quick home remedy for constipation.
Required:
1 fresh lemon juice
1 cup of warm water
Method:
Add the fresh lemon juice in a cup of warm water. Drink it by sipping on empty stomach in the morning.
Olive Oil
One of the easiest and multipurpose home remedies for constipation
Olive oil is not only healthy fat but an excellent home remedy for constipation. It has a unique texture, consistency, and usefulness to cure constipation that we can easily call the poster boy of home remedies for constipation.
It vitalizes the digestive system and also helps the movement of waste matter through the colon.
Olive oil if taken regularly is a great can have many other associated benefits. 
Required:
1 tbsp olive oil
1 tsp lemon juice (optional)
Method:
Take one tablespoon of olive oil every morning. This works best if taken first thing in the morning empty stomach. In case you do not like the taste of olive oil, you can mix it with a teaspoon of lemon juice. It will ease the flavor making it a little tastier. If you forget to take it in the morning, you can have it later when you have not eaten anything for a longer time.
Molasses 
Where there is molasses there is not constipation
Blackstrap molasses are a good home remedy for occasional or chronic constipation. The usefulness of blackstrap molasses is due to the process by which it is made.
When the pure sugar cane juice is boiled to make it concentrated, sugar gets crystallized and regular molasses are formed. When the juice is boiled for the third time, blackstrap molasses are formed in crystallized form.
This crystalline form of blackstrap molasses is rich in vitamins and minerals. It contains a good amount of magnesium which is helpful in relief from constipation.
This natural, tasty, and sweet remedy is something your body will thank you for.
Required:
1 tsp blackstrap molasses
1 cup warm water/tea (optional)
Method:
Take one teaspoon of blackstrap molasses for a few days. If you do not like the taste of it, you can mix it in a cup of warm water. You can increase the dose to 2 teaspoons if one does not seem to be effective. But it recommended trying less quantity first.
This is one of the home remedies for constipation that requires precaution. You need to step up gradually and adjust the right quantity that suits you in constipation.
Flaxseed Oil
Constipation can be cured with flaxseed oil
Flaxseed oil is also a simple and amazing remedy to cure constipation. When we consume flaxseed oil, it increases the bowel movements.
It also coats the stool and inner walls of the intestines making it easier to pass the stool.
Flaxseed oil works best when taken with orange juice. The pulp of orange juice gives the required fiber which gives the double benefit. 
Required:
1 tbsp of flaxseed oil
1 glass of orange juice with pulp
Method:
Add one tablespoon of flaxseed oil to one glass of orange juice. This remedy can be taken anytime, but it takes 4 to 5 hours to show its effects.
Exercise 
Effective home remedy for constipation and weight loss. 
Exercise should be an important part of our day if we want to keep our body healthy. In our busy lifestyles, we are mostly eating foods that cause constipation.
Moreover, most of our day goes inactive when we are sitting and working. There is no specific reason that no exercise can cause constipation but we can believe that with exercise all our body parts including the colon can move and work smoothly.
Exercise should not be done after heavy meals. Also, there are specific exercises and stretching that are meant for the proper functioning of the stomach muscles.
Thus a regular and targeted exercise is an effective home remedy to relieve constipation.
Baking Soda
Baking soda is an important part of kitchens. It is a useful part of many home remedies. This amazing salt does wonders with constipation and general stomach pains also.
Baking soda is bicarbonate and it helps the stomach to easily pass out the air and gives relief from pressure.
It is alkaline in nature and neutralizes the acid formed in the stomach that helps the stools to pass out easily through the gut.
Required:
1/2 tsp baking soda
1 cup of warm water
Method:
Mix 1/2 teaspoon of baking soda in a cup of warm water and drink it quickly for best results.
Natural foods cure constipation
List of some great foods that cure constipation
We have all heard from our grandparents how natural foods are good for the stomach and help to relieve constipation. Taking a natural diet that contains more fruits, vegetables and grains keep our body healthy.
Our bodies have evolved knowing to process these natural foods and therefore many artificial and processed foods do not get digested properly and cause constipation.
Most natural foods are rich in fiber that is very useful for our stomach and makes it's working easier to pass stool. Fiber itself does not get digested in the body, but it absorbs water and softens the stool.
So drinking a lot of water along with fibrous foods will keep our stomach fit and healthy.
Nuts, beans, broccoli, apricots, whole grain are some examples of fibrous foods.
Aloe Vera
The magic plant as one of the best home remedies for constipation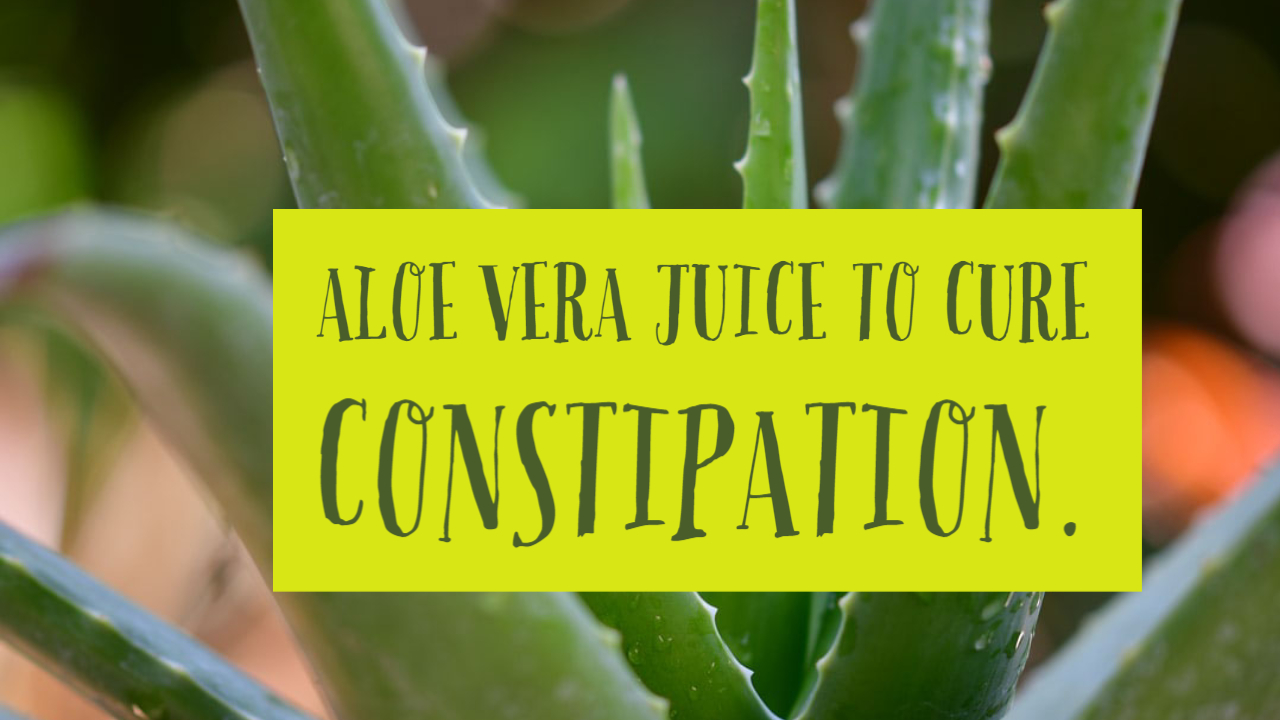 Aloe Vera gel is not only good for the skin but it can work as a magic for the stomach also. Pure aloe vera gel gives a soothing effect to our tummy.
You can easily extract the gel directly from the plant and can use it in the concentrated form for better benefits. When used in the concentrated form, do not consume more than 2 tablespoons.
If the plant is not available, you can easily get the juice from the market.
Required:
2 tbsp aloe vera gel / 1 cup aloe vera juice
Method:
Add two tablespoons of aloe vera gel with any fruit juice and drink empty stomach in the morning.
You can also drink one cup of aloe vera juice for similar effects.
Form a routine
Best home remedy for constipation where you don't have to take any medicine or use any natural food
As we make a potty routine for our pets, making the same for ourselves can be helpful for constipation. When we slowly start fixing the time for potty, it will help to regulate our bowel movements.
Start with keeping 15 minutes time for the bathroom up to 3 times a day. Still relaxed even if potty does not happen. When you start following a routine, the body will start to catch on with it and will definitely give results.
Exercise also has additional benefits. It helps to tone your muscles and lessens the load on your skeletal structure. It also helps you to lose weight.